The Sudomemo Bot aims to enhance your Sudomemo and Discord experience! Learn how to take full advantage of our bot by following this guide.
Linking your Discord account to your Sudomemo Creator's Room
Linking your Sudomemo Creator's Room to Discord means you'll get a more personalised experience when communicating with our bot.
For example, our bot will speak the language you've set on Sudomemo.
First, go to sudomemo.net/user/settings and copy the entire command under "How to Link".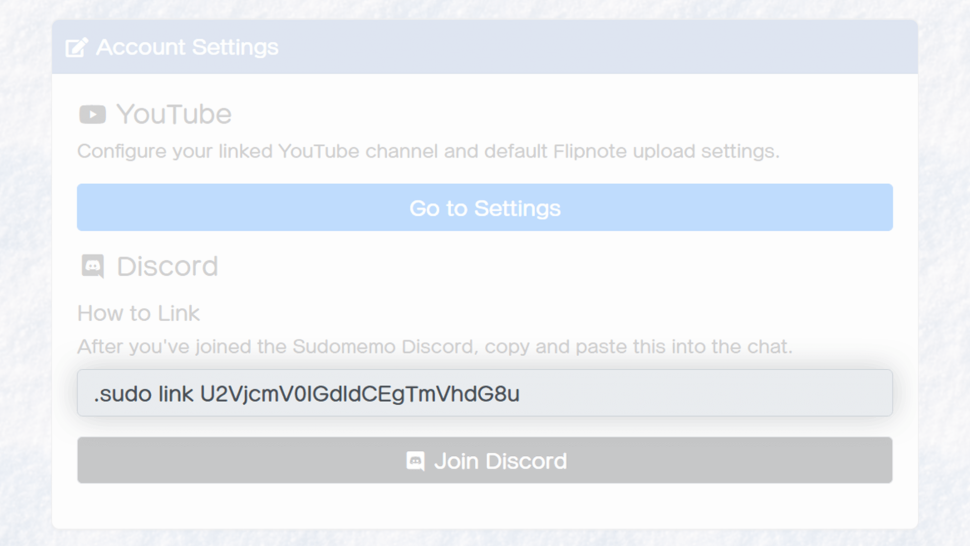 Now, paste and send this command into our #🤖-bot-commands channel and our bot will reply with a confirmation message. It's that easy!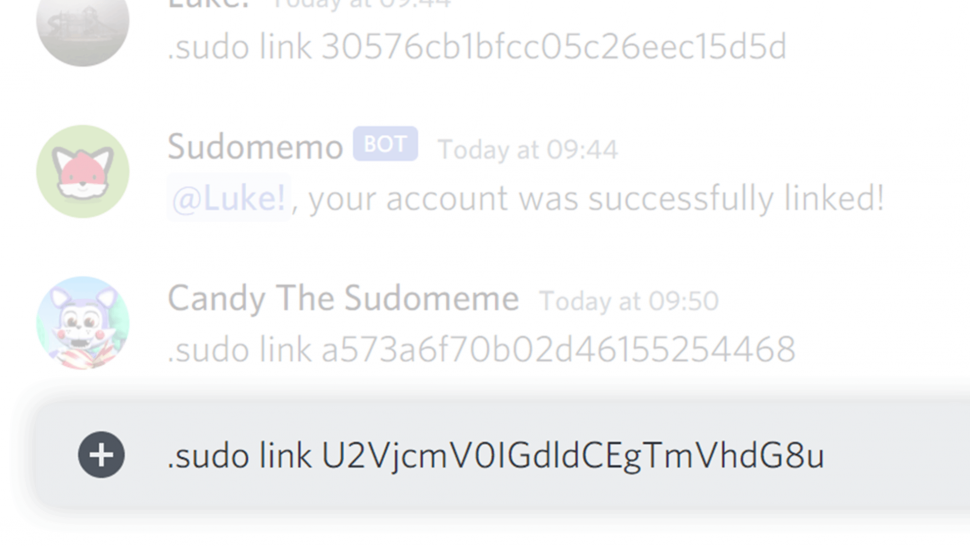 We aim to expand this capability; so, you'll want to keep your eyes peeled on our Discord for updates! 🐕
Searching Sudomemo MusicMatch
Do you want to see more Flipnotes featuring your favourite song, artist, or even genre? With the Sudomemo Bot, that's just one command away!
In our #🤖-bot-commands channel, enter ".sudo" to see the list of commands our bot will accept.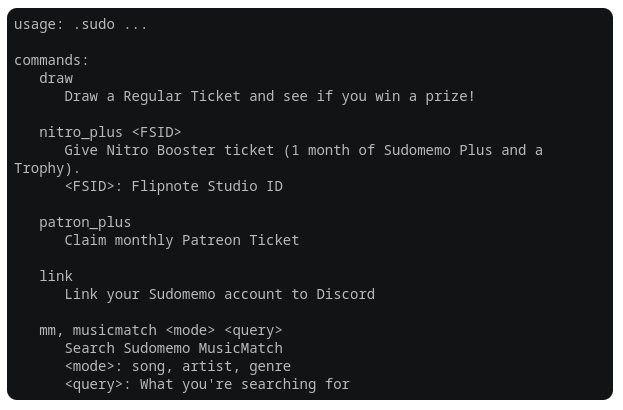 To search for Flipnotes containing a specific song, you would enter ".sudo musicmatch song <song name>".
How about a specific artist? Easy! Enter ".sudo musicmatch artist <artist name>".
Genre? No problem! That's just ".sudo musicmatch genre <genre name>".
💡 Tech Tip! For the speedy typists out there, instead of entering ".sudo musicmatch", enter ".sudo mm". Both commands function the same.
Giving Sudomemo Plus
You read that right! As a thank you, if you Nitro Boost our Discord or support us on Patreon, you can give yourself or a buddy a month of Sudomemo Plus (and a special trophy) each month!
ℹ️ Gifting to others is currently limited to Nitro Boosters only.
Once you have Nitro Boosted our Discord, head on over to #🤖-bot-commands and enter ".sudo nitro_plus <Flipnote Studio ID>".
Patreon supporters can enter ".sudo patron_plus" instead to receive their month of Sudomemo Plus and a different trophy.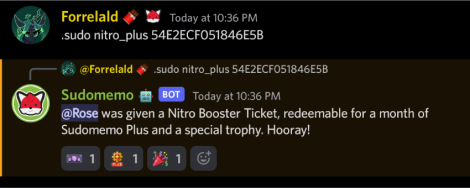 💡 Those who both boost the server and support the Patreon can use both commands to receive 2 months of Sudomemo Plus at once! (or a month for yourself and a buddy!)
You can find your or your buddy's Flipnote Studio ID by navigating to their Creator's Room.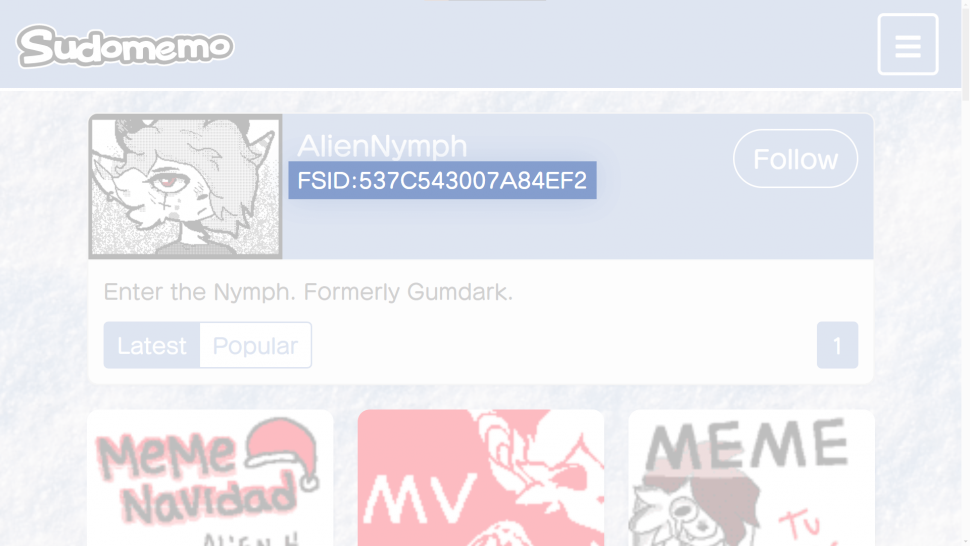 Please note that due to Discord limitations, only one Nitro Booster ticket can be given per month regardless of the number of times you've boosted.
Wrapping Up
We're only just getting started with this bot. If you have any suggestions or feedback, please let us know via Discord or email!
Haven't decided to join our Discord yet? Check out our top 5 reasons why you should join the Sudomemo Discord!
We can't wait to see you!
---
Any questions, comments, or concerns?
We're all ears! Let us know via Discord or Support Email.